As we all know, technology continues to evolve at a rapid pace, and it can be a challenge for small and medium-sized businesses to keep up. Are you regularly having IT issues? Not making the most out of your IT infrastructure? Don't have the support you need? A growing number of companies are looking for outside expertise and engaging third-party Managed IT providers to not only help them manage these challenges, but to help them grow and thrive.


However, like any third-party service, outsourced IT services come with a set of both pros and cons. In this post, we will define what outsourced or Managed IT Services are, and how they can help your business and what to look out for.
So, Exactly What is Outsourced IT?
A Managed IT Services provider is an outside company that can handle all or part of your IT needs. They can help with a variety of tasks including optimizing your print environment, network security, implementation of operating systems, software installation and updates, automation of data backups, and even migration to the cloud.
The goal of a Managed IT Services provider is to learn about your business and to build a partnership with you. They will monitor your network, keep it running smoothly, and be available when you need help. All for a fixed monthly fee.
The Pros and Cons of Outsourcing Your IT
The Pros
Why do companies outsource their IT? Here are some of main benefits of outsourcing to a Managed IT Services provider:
Big Savings – For many small businesses the cost of retaining an in-house staff is prohibitive. Outsourcing IT can be a cost-effective solution and will free your team to focus on your business.
Predictability – Managed IT Services come with a single monthly charge. This means you will have budget predictability. Services can be scaled up or down as needed, all with a predictable fee.
Experience, Expertise, and Reliability – A good MSP provider will have experience with businesses like yours, the expertise to help you get your IT infrastructure under control and offer reliable service whenever you need them.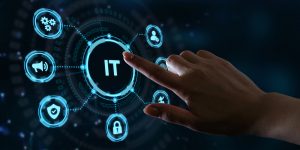 The Cons
Feeling Out of Control – It can feel daunting to hand over the keys to your IT infrastructure to a third party. This can especially worry business leaders who have been involved in all aspects of their IT. This perceived lack of control can be mitigated by insisting on transparency from your provider, focusing on outcomes and metrics, and determining a communication cadence so that you are always in the loop. A good provider will be happy to oblige!
Finding the Right Provider – There's no doubt about it, finding the best provider for your business can take some time. Do they understand your business? What is their experience and areas of expertise? How many long-term customers do they have? Be sure to ask for references. Ask a lot of questions. Doing your due diligence may seem time-consuming but you'll be glad you took the time to make sure your chosen provider is the best fit for you.
Choosing whether to move forward with a Managed IT partnership is an important decision. Weighing the pros and cons is a good starting point in your decision-making process. Want to learn more? Contact one of our representatives and we'll be happy to answer any questions you have!
About hubTGI
hubTGI is a Canadian-owned Managed Services provider that offers Print Services, Workflow Solutions, Managed IT, Cybersecurity Solutions, Cloud Services and VoIP to help their customers control costs, secure their data and make their people more productive. 
For the latest industry trends and technology insights visit hubTGI's Resources page.