Digital printing can be a game-changer for businesses of all sizes. With its speed, flexibility, and cost-effectiveness, digital printing has revolutionized the way businesses produce their marketing material, and in many cases, it's made it possible to produce things that were not economically viable before.

Here are five of the most creative ways businesses are using the Xerox V280 press to increase their reach, enhance their brand image, and boost their bottom line.
1. Booklets / Brochures / Catalogs – Digital printing allows businesses to produce short runs of customized catalogs, reducing waste and saving costs. It also enables the cost-effective production of large brochures with personalized graphics, boosting customer engagement and loyalty. The Xerox V280 press offers various finishing options such as the Advanced High Capacity Feeder and Production Ready Booklet Finisher, with the Two-sided Trimmer and SquareFold Trimmer that produce professional-looking booklets, brochures and catalogues.
2. Reports and Newsletters – Digital printing allows companies to produce customized newsletters and reports in small or large quantities at a low cost. The Xerox V280 press provides a range of finishing options, including coatings and heavier-weight papers, which can enhance the professional appearance and readability of printed materials. With the Xerox V280 press, businesses can effortlessly print high-quality newsletters and reports in small or large runs, without compromising on affordability or quality.
3. Wire Bound Products – The Xerox V280 press offers wire binding. Wire binding is a popular method of binding that involves inserting a series of wire loops through a series of punched holes. The loops are then crimped together to create a durable and professional-looking binding. The Xerox V280 press can wire bind booklets, catalogs, manuals, reports, and other documents easily.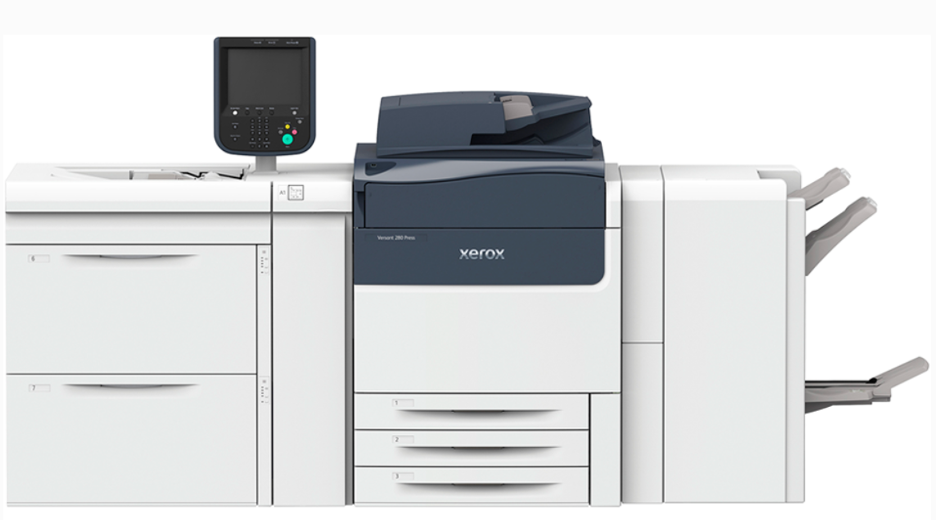 Xerox V280 Digital Press
4. Postcards / Business Cards – The Xerox V280 press helps businesses produce high-quality, personalized postcards and business cards. Its digital printing technology allows for full-color printing on various paper and cardstocks, with options for digital or variable data printing. With the ability to produce shorter runs on-demand, the Xerox V280 press helps minimize costs and reduces inventory waste.
5. Speciality Media / Envelopes / Packaging – The Xerox V280 press can help businesses print on a wide range of specialty media, envelopes, and packaging, offering a variety of options for businesses to create unique and customized materials. This press features advanced digital printing technology that can accommodate various media types, weights, and sizes, including envelopes, cardstocks, and even plastics. The Xerox V280 press also offers finishing options such as coatings, embossing, and metallic inks to create a professional and polished look for packaging and envelopes. With the Xerox V280 press, businesses can achieve high-quality and customized printing on specialty media, envelopes, and packaging to enhance their brand image and stand out in the market.
The Xerox V280 press offers businesses a variety of ways to enhance their brand and increase visibility. With high-quality booklets, brochures, customizable wire-bound products, and postcards/business cards, digital printing enables the production of personalized, professional materials that help businesses stand out. Additionally, specialty papers, envelopes, and packaging provide endless opportunities for creativity, enabling businesses to promote their brand in unique ways and connect with their audience for a lasting impression.
About hubTGI
hubTGI is a Canadian-owned Managed Services provider that offers Print Services, Workflow Solutions, Managed IT, Cybersecurity Solutions, Cloud Services and VoIP to help their customers control costs, secure their data and make their people more productive. 
For the latest industry trends and technology insights visit hubTGI's Resources page.