As digital technology continues to transform the workplace, traditional paper-based workflows are giving way to more agile and efficient digital processes. The advanced scanning capabilities offered by Xerox Multifunction Printers (MFPs) seamlessly converts hard copies into digital assets, empowering organizations to unlock new levels of productivity and collaboration.

Here are five benefits of leveraging the scanning capabilities of a Xerox MFP:
1. Enhanced Document Management: Scanning allows for easy digitization of documents, reducing the reliance on physical copies and minimizing paper clutter. With digital files, employees can quickly search, retrieve, and share documents, saving time that would otherwise be spent searching through physical files.
2. Streamlined Workflows: Xerox MFPs offer features such as scan-to-email, scan-to-network, and scan-to-PC, which automate the process of capturing and distributing scanned documents. This streamlines workflows by eliminating manual steps and enabling seamless sharing of information within teams or across departments.
3. Efficient Information Sharing: By scanning documents directly to email or network folders, employees can quickly distribute information to colleagues, clients, or partners. This eliminates the need for physical delivery or manual document replication, speeding up communication and collaboration.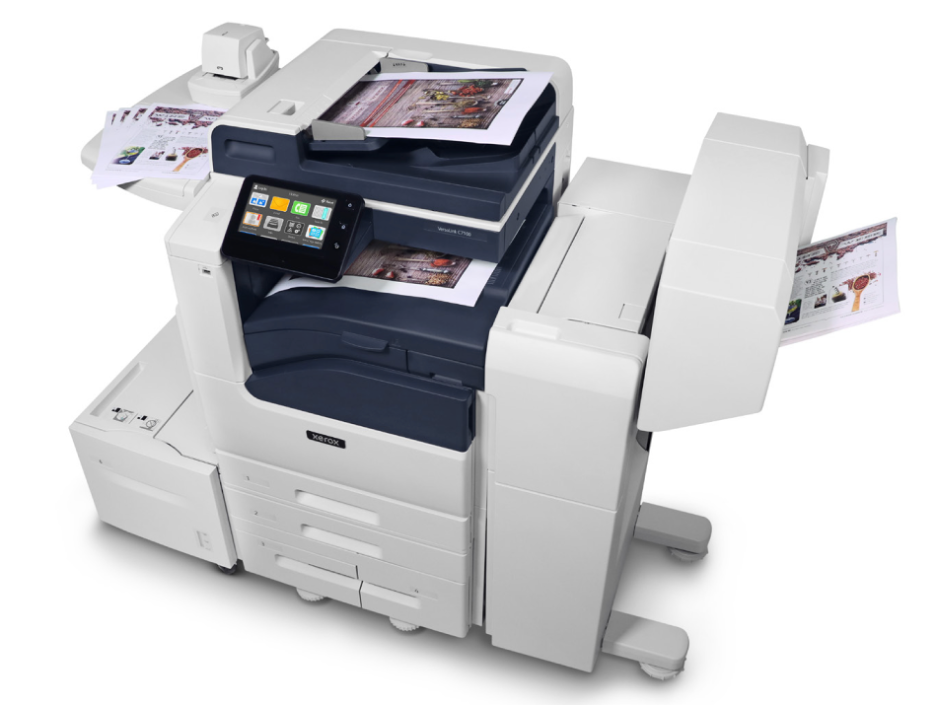 Xerox® VersaLink® C7100 Series Color Multifunction Printer
4. Improved Accessibility: Scanned documents can be easily stored and accessed digitally, making them available to multiple team members simultaneously. This accessibility enables remote work, allowing employees to access important documents from anywhere, leading to increased flexibility and productivity.
5. Integration with Productivity Apps: Many Xerox MFPs support printer apps that extend their capabilities further. These apps can enhance productivity by enabling direct integration with cloud storage platforms, document management systems, or other workflow tools. This simplifies the process of scanning, organizing, and utilizing scanned documents in different applications.
With enhanced document management, streamlined processes, efficient information sharing, improved accessibility, and integration with productivity apps, businesses can optimize their workflows and drive productivity to new heights. Embracing the digital transformation facilitated by Xerox MFPs not only improves productivity but also paves the way for a more sustainable and eco-friendly approach to document management. Say goodbye to the limitations of traditional paper-based workflows and embrace the power of scanning on a Xerox MFP to unlock enhanced efficiency and collaboration.
About hubTGI
hubTGI is a Canadian-owned Managed Services provider that offers Print Services, Workflow Solutions, Managed IT, Cybersecurity Solutions, Cloud Services and VoIP to help their customers control costs, secure their data and make their people more productive. 
For the latest industry trends and technology insights visit hubTGI's Resources page.